Import new items to Quartzy as well as edit existing items via Excel using the Quartzy Import Template. Just make sure to follow all the instructions.
If you received an error message and not all of your items were imported, download the error report and complete the following steps:
1. Make changes directly on the report
2. Save your changes
3. Import the newly saved error report back to Quartzy
Important: Download the error spreadsheet in Step 1 right away and do not navigate away from the page.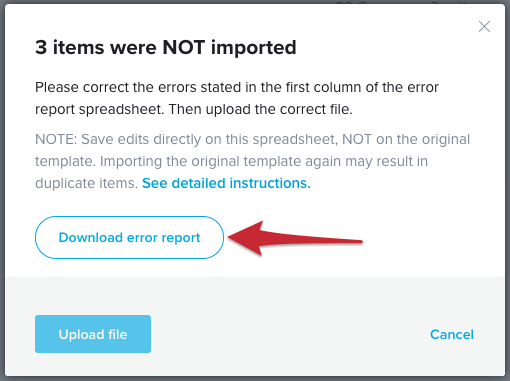 Here are some common errors and how to fix them! Make your corrections directly on the Error Spreadsheet and import that to Quartzy. 
1. * Invalid item name
You must have a column titled "Item Name" in order for items within that row to be imported. The Quartzy Template will automatically have this column, but if you want to use your own template, make sure it has this field.
2.* [Field Name] is not a valid date (mm/dd/yyyy)
When a field is formatted as 'Date,' the best format to add data within that field is MM/DD/YYYY. If you just enter "2015," you will experience this error. 
3. * You cannot assign an item to a sub-location without first assigning it to a location
This also applies to having information in the Location Details field without having the Sub-Location or Location information filled in. These 3 fields must be filled in order. For example: Location (-80 freezer) > Sub-Location (John's Antibody box) > Location Details (A1, A2, A3)
4. * [Field name] is required.
A custom field may be required by your group Administrator. The field name (column header) will have an asterisk (*) after the field name to indicate this is a required field and must be filled in if you want to upload the details for that item.
5. * [Field Name] is not a number.
Similar to date fields which must have information in date format, fields that are set to the number format must have only numbers in them. 
6. * [Name] is not a member of [Lab Name]. Please check that the name is spelled correctly.
You can change the owner of an inventory item when uploading an edited inventory spreadsheet, however, the name you enter must be the exact name of a person in your group. We recommend copying and pasting the name from the Group Members page to ensure it is the same.
7. * Couldn't locate [Serial Number].
You changed the Serial Number field when editing your inventory in Excel and since that is the field we use to upload your changes to Quartzy, we cannot find the item to save those changes. Do not edit the Serial Number field. If you use your own serial numbers in your lab, create a custom field.
8. * You don't have permission to edit this item.
Items you are not allowed to edit will appear in the exported inventory spreadsheet in grey. You do not have permission to edit those items so changes you have made to that item will not be saved. 
Tip: If you receive a generic 'Import Failed' message at the bottom of your screen instead of an error report, please send the file you attempted to import to support@quartzy.com and our team will help you troubleshoot!
Next Up: Learn how to import your freezer samples to Quartzy