Custom request fields can be used for tracking anything related to your Organization's ordering process, like financial data or project codes. They can be created by any Organization Admin. The fields created will be available and identical for every Lab in your Organization, and they will even be included on your Spend Reports when you export via Excel.
Common use cases
Tracking which project a request is associated with

Recording accounting data like department, class, or cost center

Creating a "Date Required By" field

Adding a "Request Purpose" or "Order Justification" field
See an example of what custom request fields look like on a request form below: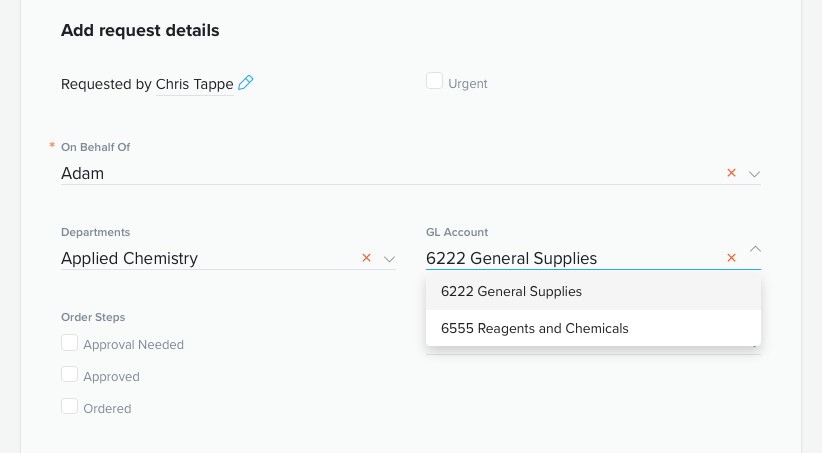 Read on to learn how to create and use custom request fields for your Org!
How to create custom request fields
1. On the top left side of the toolbar, click on the Org Name or the Lab Name to open the list and then click the gear icon next to the Org Name.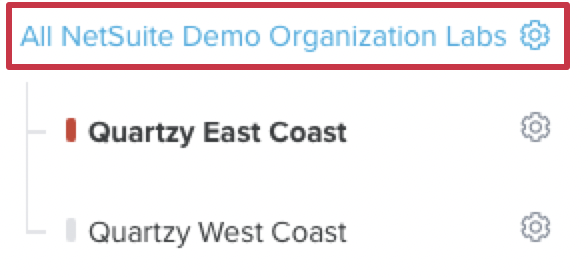 Important: Only Org Admins are able to view and access the Organization Management section. If you are not an Org Admin, you will not see a gear icon next to the Org Name.
2. Navigate to the Custom Fields tab.

3. Add your field details
Field Name: add a title for your custom field.
Field Type: this is the format for your field. Format options are text, single select (aka dropdown menu), checkbox, and date.

Field Option (single select or checkbox formats only): add the selection options for your field.




Text Field Type (text format only): select from single line, paragraph, number (only number characters can be entered), or email (requires a valid email address to be entered).




Select whether the field should be optional or required. When a field is required, a request cannot be added without the field being populated.
4. Click Create Field to save your custom field.
Add requests with custom fields
Once you've created custom fields, they'll show up on the request form for any new requests. Custom fields will be found in the "Add request details" section of the request form. Click into the field to add details, which will be saved automatically as soon as you click out of that field.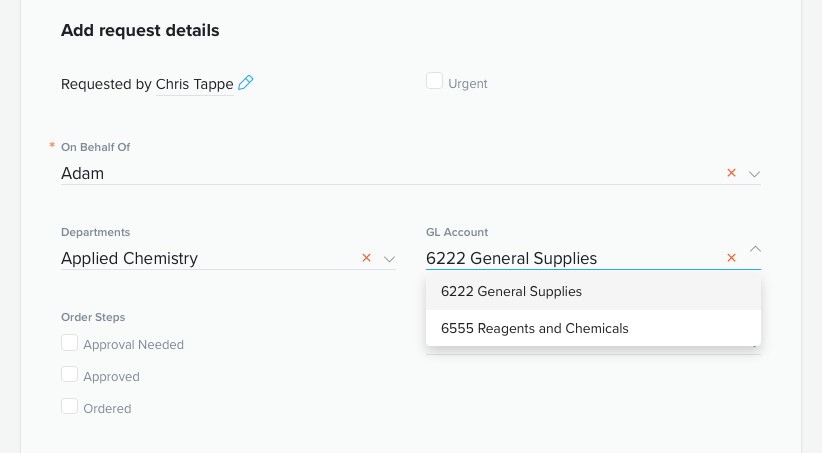 Edit requests with custom fields
Custom fields can be filled out and edited after a request has been made. Click on the item name in the Requests table to open the Item Details Panel, and navigate to the Custom Fields section of the request detail panel. Click the field to edit details. Your changes will be saved automatically as soon as you click out of that field.

Note: Required fields must be filled out before you can close the request detail panel. Any existing requests that were added before the required custom field was added, will require the new field to be populated next time that request is opened.
Next Up: Learn how to add requests