Quartzy orders can be easily tracked in your lab's Requests module, as details such as status and tracking information are automatically updated on your requests. Read below to see how to track a shipped Quartzy order!
1. From the Requests module, go to the Ordered tab and find the item that you want to track.

2. For items that have shipped, view the Tracking field in Details column of the Requests table, or in the item's details panel. A tracking link will automatically be displayed on the request once tracking information becomes available.
Requests table:

Details panel: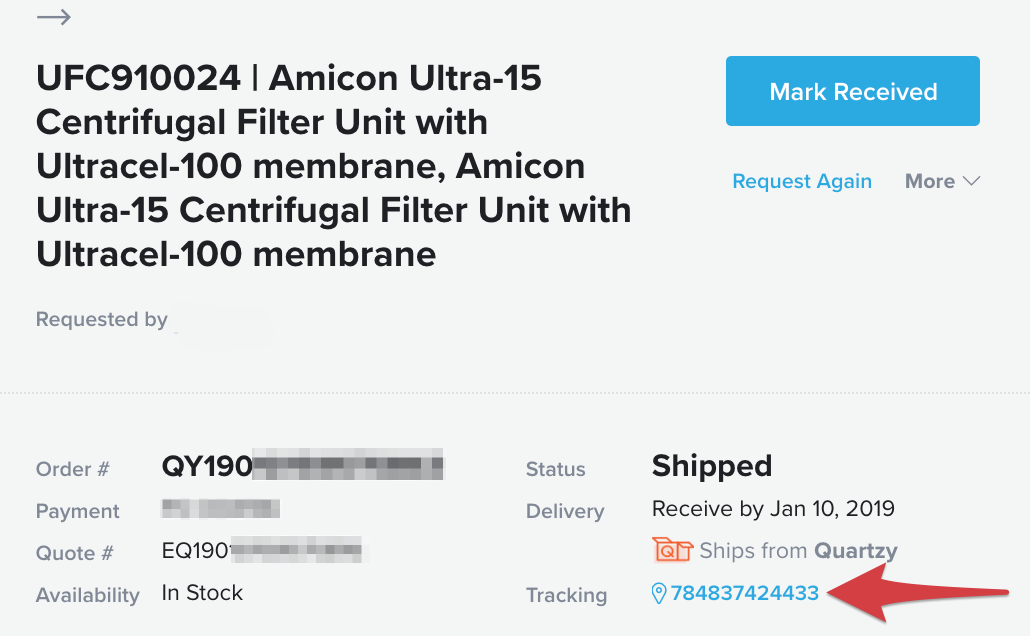 Note: the delivery date or date range listed is an estimate of the date an item will be delivered, based on the location of your lab, the location of the shipping facility, and the shipping method.
3. Click the tracking link to get live tracking information from the carrier. This may be FedEx, UPS, or local carriers/trucks.
4. If there is no tracking or shipment information, review the estimated delivery date. Quartzy's Support Team is available to assist with obtaining further updates or information for your order, via email at orders@quartzy.com. Be sure to include all relevant order details (order #, catalog # or quote #, etc) in your message to Quartzy Support - this information can be found in the item detail panel for each request!
Next Up: Learn how to distinguish between a Quartzy order and a non-Quartzy order