Types in Quartzy are the categories of items you want to track in your lab. Your inventory might include things like Chemicals that you purchase for the lab and it may also have Cell Lines or other things you create in lab that you want to keep track of. 
When moving an item from one Type to another, only information in the Standard Fields will transfer. If you want to transfer information from the Custom Fields, use the instructions below!
1. Export your inventory to Excel by clicking Export on the left sidebar.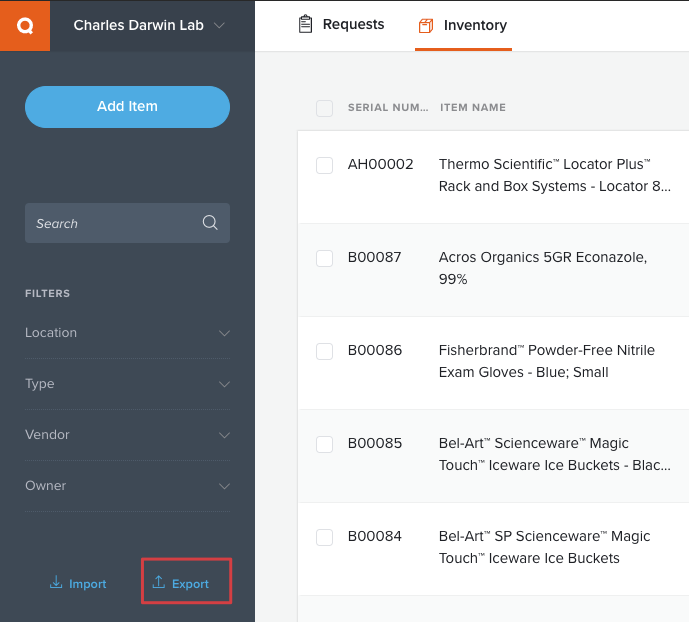 2. Open the Excel file, find the item(s) you want to edit, and change the "N" to a "Y" in the "Delete (Y/N)" column for the items you want to move. When you re-upload the file, that item will be deleted from that Type.

3. Copy over all the item details and paste them into the Standard Fields on the Type worksheet that you want to add the item(s) to. Add those item details below any items that already belong to that Type.
Important: Do not copy over the Serial Number. A new one will be created when the item is added to the new Type.


4. Next, copy the item details for any Custom Fields one field at a time and paste them onto the worksheet for the new Type. If a field is missing, simply add the column header onto the worksheet and paste the details below. Make sure to save your changes!


5. Go back to the Inventory module in Quartzy for your selected lab and click Import in the left sidebar to upload that saved spreadsheet back to Quartzy.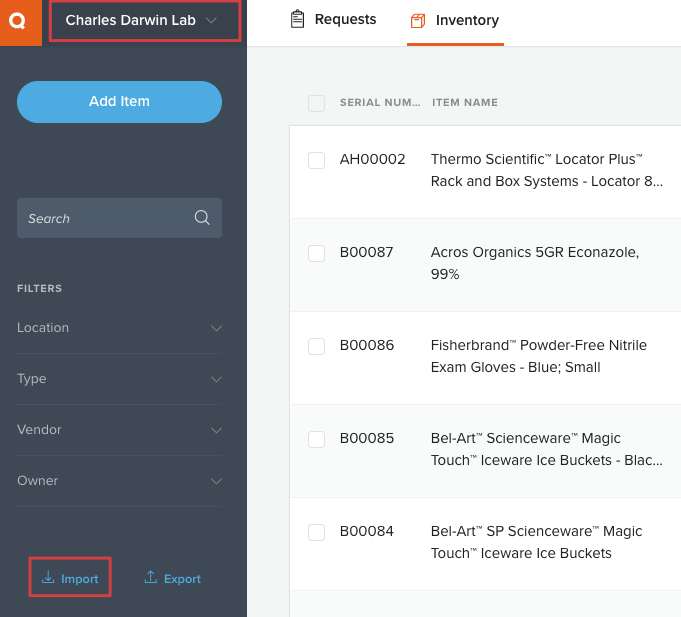 Items you want to delete will be deleted, new items will be added, and all other items that you did not touch will remain the same!  
Next Up: Learn how to manage your Types and Fields