Quartzy requests can be associated with budgets to help with spend tracking. If you would like the same budget to automatically be associated with a request every time it's re-requested, follow the directions below!
1. On the top left side of the toolbar, click on the Org Name or the Lab Name and then click the gear icon to select the lab where you want to make changes.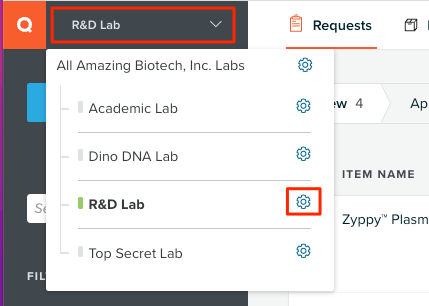 2. Select the Lab on the left sidebar and click the Lab Settings tab.

Note: Only lab Admins are able to add and manage Budgets or Lab Settings. Members can view, but not edit Lab Settings.
3. To auto-populate the previous budget code to items requested again, select Yes, copy budget from the original request to the new request.

If you would like budget codes to be manually selected on each new request, select No, budget codes should be set on each request.
Next Up: Learn how to create, delete, and customize Budgets