Note: The QuickBooks Online integration is only available with paid subscriptions. If you're interested in accessing this feature, contact support@quartzy.com
Quartzy's integration with QuickBooks Online helps Lab Managers and Accountants save time by eliminating tedious, manual data entry. Now, data flows automatically into your QuickBooks Online account, and you can review everything in one place.
Follow the instructions below that detail the steps for accessing this feature!
1. On the top left side of the toolbar, click on the Org Name or the Lab Name to open the list and then click the gear icon next to the Org Name.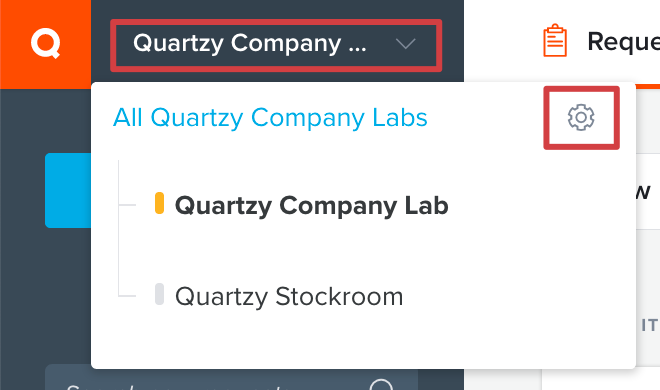 Important: You must be an Org Admin to access the Manage Organization page.
2. From the Manage Organization page, select the organization on the left sidebar and then select the Integrations tab.

Next Up: Learn how to connect your QuickBooks Online account to Quartzy