Baylor College of Medicine now has a Quartzy PunchOut! Read below to learn how to access Quartzy from Jaggaer/SciQuest.
Existing Quartzy users:
1. Login to Jaggaer and click the Quartzy vendor tile.
2. You'll be taken directly to your Quartzy account automatically!
Note

: if it has been longer than 30 days since your last Quartzy login, you will be asked to login again for security purposes. You will then remain logged in for 30 days.
3. For step-by-step instructions on how to place an order via PunchOut, check out the following guide: Purchase from Quartzy at Baylor College of Medicine (BCM) using Punchout
New Quartzy users:
1. Log in to Jaggaer and click the Quartzy vendor tile.
2. You'll be taken to the Quartzy login page. Click Sign up.
3. Enter your email address and click Next.
4. Create a password for your Quartzy user account, and click Sign up.
5. Find the email sent from Quartzy and verify your email address.
6. Once you've confirmed your email address, you'll land on a page where you can:
Request an invitation to an existing BCM lab from the list of labs on that page

Create your own lab - your lab will automatically be created under the BCM organization. You can

invite any number of colleagues to your lab

.
7. If you have already been invited to an existing lab, you'll instead land on a "You've been added to (lab name)" page. Click on the Go to your lab! button to go to that lab.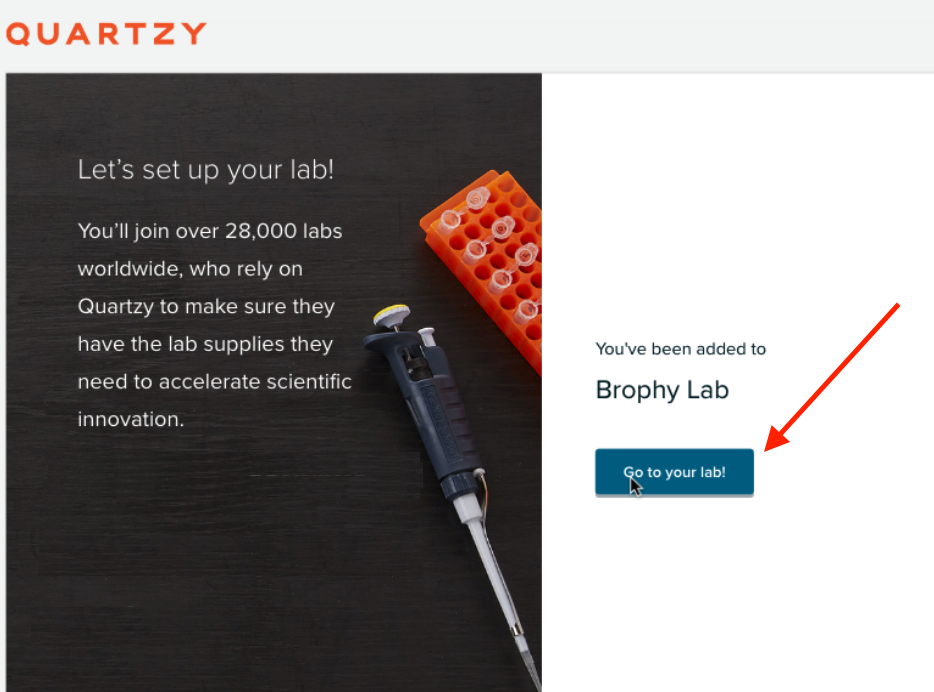 8. Once you are a member of a BCM lab in Quartzy, you can use the following instructions to place orders via PunchOut: Purchase from Quartzy at Baylor College of Medicine (BCM) using Punchout
Next Up: Learn how to apply a promo code when using Quartzy Punchout